MOOR YOUR BARGE AT H2O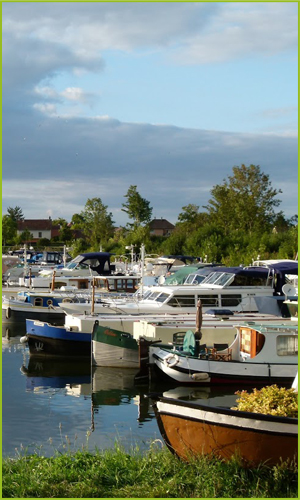 H2O has three ports in Burgundy, the harbour of Saint Jean de Losne, Port Royal Auxonne and the old lock of Saint-Usage.
H2O is :

- 25 years' experience
– 1400 units sold
- 4000 potential buyers
– 100 boats for sale locally
– 2600 repairs at our Workshop
– 3 exceptional marinas
– 600 moorings

Our marinas enjoy a privileged position located at the crossroads of French inland waterways.
You will have direct access to the Saône, the Canal de Bourgogne and the Canal du Rhône au Rhin.
During your stay, you can enjoy all that the Burgundy region offers : its culture, heritage, attractions, leisure and gastronomy.
Our three ports offer a wide range of services for the comfort of boaters :
- Aluminum pontoons accessible for disabled people
- 16A electrical connections
- A webcam monitoring system, accessible via internet
- All necessary services (mechanical, welding, painting, carpentry, landscaping)
- Troubleshooting and emergency cover 24/7
- Trailer crane for boats up to 47 tons and 21 m
- Dry dock for large vessels
Click here to view our mooring rates for 2015
You want to moor your boat in one of our ports or you need more,information ?
Our multilingual team is at your disposal from phone +33 3 80 39 23 00 or by email at h2o@h2ofrance.com.